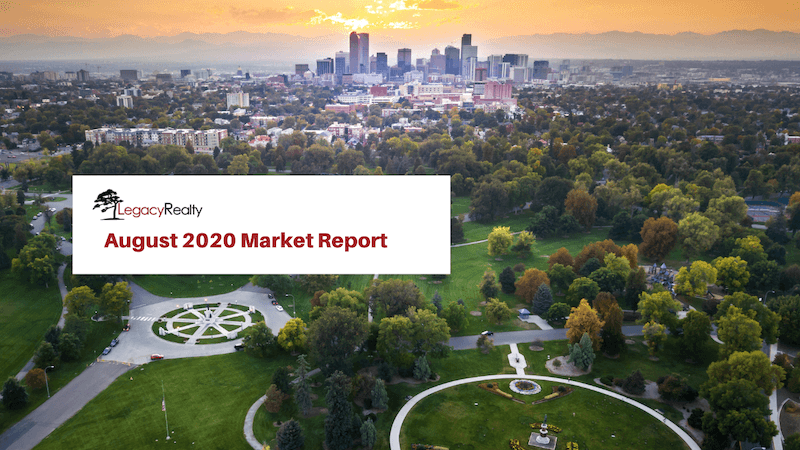 August 2020 Market Report
Hello everyone!
The August 2020 numbers are in and I am here to tell you what they all mean and give my expert weigh in on where the Denver Real estate market is heading this fall. The numbers are unprecedented so let's delve into what's happening.
Average Sold Price – $583,086. We are UP by 12.8% from this time last year. That is a great increase for Denver Metro; it shows that houses are still appreciating. Why are we having this huge appreciation? Covid-19. Due to the shutdowns in the first and second quarters, the market peak was pushed back by several months. We are seeing now, in Sept., that the August numbers were the market peak in 2020. Last year, we saw that August numbers reflected the peak season dropping off. Never fear, the market is still appreciating by 4-5% per year.
Inventory Status – Inventory is one of the most important factors to consider when analyzing the vitality of a real estate market. 6 months of inventory would be considered a buyers' market but right now, Denver Metro is at 1.1 months of inventory. Meaning, we're still a strong sellers' market. (52% lower than this time last year). This means there is little to no inventory for buyers and that is driving the market prices up.
Showings to Contract – The question sellers most often ask once going active is, "when is my house going to sell?" I have been doing real estate for a long time and the exact moment when you know you're about to get an offer is when the showings average 1-2 per day. I know I am at the right price for my listing when my sellers have 7-10 showings per week or more. Denver Metro has an average of 16.2 showings until a house goes under contract. For August, the average days on market was 23 days.
Showings – in August we saw a 171% increase in showings. Why is this so much more than usual? Going back to #1 and #2, the peak of the market/selling season has been pushed back and supply and demand is at play. There are more buyers than sellers. Everyone is scrambling to find that new home and prices are shooting up because of this.
Curious to know more about the market in your neighborhood or community? Give me a call.
Please keep in mind that every real estate transaction is different, but I'm always happy to sit down and have a conversation and help you look at your options for buying, selling, or investing.
God Bless,
Shane Severson