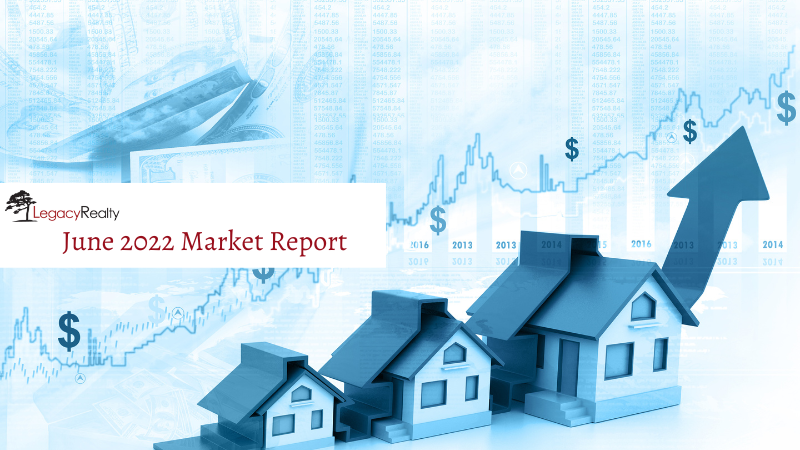 June 2022 Market Report
June Market Update
AVERAGE SOLD PRICE:
June 2021 – $676,118
June 2022 – $767,741
Year-over-year we saw a 13.5% increase in home prices; however, month-over-month we saw a decrease from May's 15.9% increase. While we expect this trend to continue, we expect that appreciation numbers like this are going to stick around for a little while longer.
MONTHLY INVENTORY:
June 2021 – 0.8 inventory
June 2022 – 1.2 inventory
Another month where we saw an increase in the monthly inventory due to the slowing of the market. This month we see a 50% increase from last year's numbers and expect to see the same after the July numbers are finalized. As we stated last month, the rising interest rates have put a pause on buyers looking.
ACTIVE HOMES:
June 2021 – 5,039
June 2022 – 6,375
We saw almost two thousand homes get added to the market in June and a 26.5% increase from last year. This is likely due to the slowing of the market.
DAYS ON THE MARKET:
June 2021 – 13 Days
June 2022 – 12 Days
A smaller decrease in the number of days on the market as we move from 13 in May to 12 in June. Even as the market slows down slightly, we are still seeing accurately priced homes fly off the market. **Please keep in mind that these numbers are swayed by larger homes and remodel projects.**
THE TAKEAWAY:
Rates are climbing and prices are climbing! This is the third month we are advising all interested parties to make their moves now. Buyers should look now so they don't get priced out by the rates and price increases. Sellers should sell because we expect a continued slowing of the market as buyers get priced out. Investors should buy as we expect prices to continue climbing and the earlier you get in the better!
Curious to know more about the market in your neighborhood or community? Give us a call!
Please keep in mind that every real estate transaction is different, but we are always happy to sit down and have a conversation and help you look at your options for buying, selling, or investing.