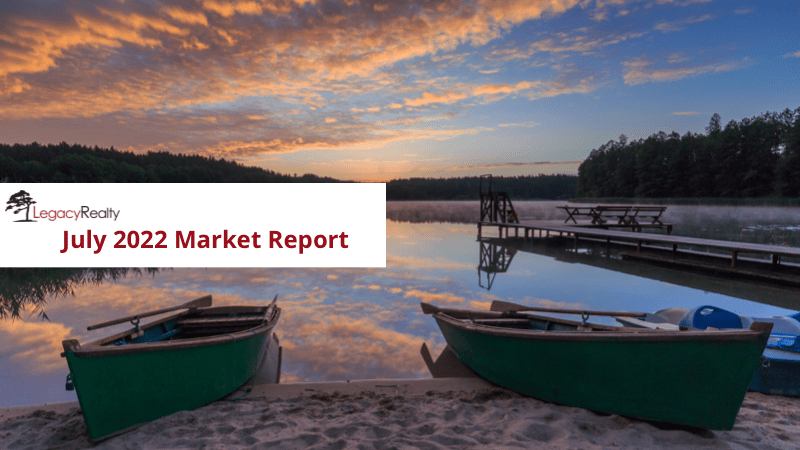 July 2022 Market Report
July Market Update
AVERAGE SOLD PRICE:
July 2021 – $676,430
July 2022 – $756,703
Month-over-month we saw a slight decrease in the average sold price of homes, but the higher than normal appreciation continued as we saw an 11.9% increase from last year. Overbid played a part in the higher appreciation levels we saw these past few months. We expect the market to stabilize and correct itself as we head into the normal seasonal buyer's market.
MONTHLY INVENTORY:
July 2021 – 1.0 inventory
July 2022 – 1.6 inventory
We saw a 60% in inventory from last year as the rate hikes slowed the market in July. This is only a 33.33% increase from last month's numbers. These are still partially due to the rate hikes putting a pause on some buyer's plans.
ACTIVE HOMES:
July 2021 – 5,774
July 2022 – 8,380
This month gave us a 45.1% increase in the number of active homes from last year and a 31.45% increase from last month. A total of 2,001 homes were added to the market from last month and expect to stay around this number as the market returns to normal seasonal trends.
DAYS ON THE MARKET:
July 2021 – 11
July 2022 – 13
Days on the market went up 18.2% this year and we saw homes stay on a day longer from last month. We are still seeing homes that are priced correctly fly off the market, but due to the overbids some homes are staying on just a little while longer as their prices are corrected for the current market. **These numbers can be skewed by larger homes, remodel projects, and other real estate oddities.**
THE TAKEAWAY:
As July came to a close, mortgage rates actually went down! We hope this will make it possible for some of our clients to have more affordable lending terms as we enter the seasonal buyer's market. We are advising that Sellers make their move now! The traditional buyer's market is upon us which means that those looking to sell their home should get it on the market as soon as possible to get the best value for their home. Buyers should reach out now, get their preapproval, and be ready to look at homes as prices drop in this seasonal market low. As inflation continues to rise, rents are expected to rise 10%, so it is a great time for investors to get into the market or to increase their portfolios.
Curious to know more about the market in your neighborhood or community? Give us a call!
Please keep in mind that every real estate transaction is different, but we are always happy to sit down and have a conversation and help you look at your options for buying, selling, or investing.