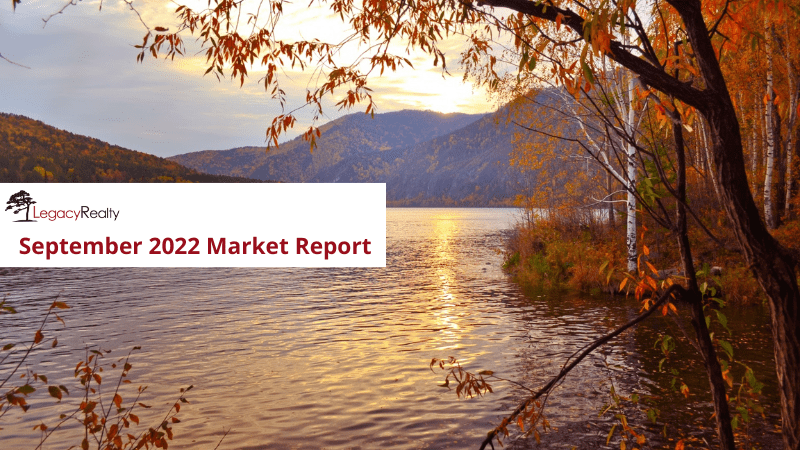 September 2022 Market Report

September Market Update
AVERAGE SOLD PRICE:
September 2021 – $707,764
September 2022 – $774,460
As we entered the traditional seasonal buyer's market, we saw a 2.83% decrease in the average sold price of homes. Year-over-year we saw a 9.4% increase in home value. The seasonal decrease was expected and is not worrying to our team.
MONTHLY INVENTORY:
September 2021 – 1.0 inventory
September 2022 – 1.9 inventory
Year-over-year we saw a 90% increase in monthly inventory available in the Denver Metro Market, but it is only a 20% increase from last month's numbers. As the market slows down, this is another increase that is expected as buyer's get ready for the holiday seasons.
ACTIVE HOMES:
September 2021 – 4,118
September 2022 – 6,636
Continuing our upward trend, we saw a 61.1% increase in active listings in September. Slower market means more available homes.
DAYS ON THE MARKET:
September 2021 – 11
September 2022 – 21
This year we saw a 90.9% increase in the average days on market and a 40% increase from August. Again, this is mainly due to the market slowing down in the Fall/Winter months.  **These numbers can be skewed by larger homes, remodel projects, and other real estate oddities.**
THE TAKEAWAY:
September brought us another rate increase as well as the seasonal buyer's market, so we of course saw the market slow down. Contrary to the public opinions, we are advising buyers to make their moves! No overbids, more options, and lower prices make the market more accessible than what many are saying. Sellers should wait until the beginning of the year, as we are seeing homes stay on the market more often. Once we get past the holiday season, we expect the market to heat back up! Investors you too should be making your move! Even with the higher interest rates ,the drop in home prices makes this the perfect time to enter the market or increase your portfolio.
Curious to know more about the market in your neighborhood or community? Give us a call!
Please keep in mind that every real estate transaction is different, but we are always happy to sit down and have a conversation and help you look at your options for buying, selling, or investing.