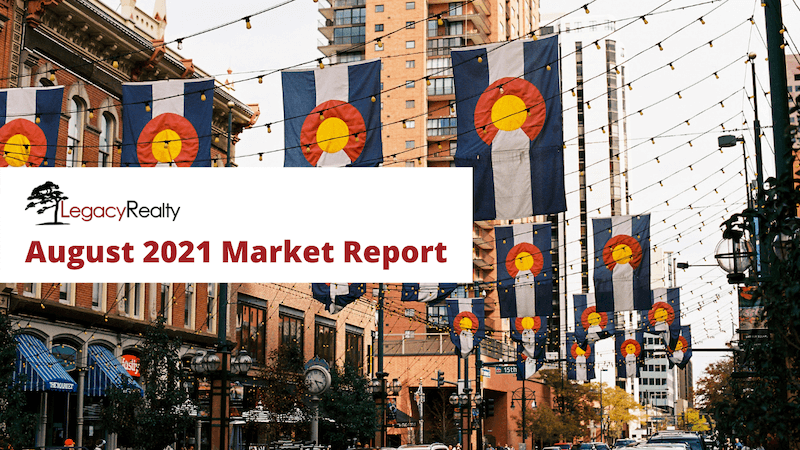 August 2021 Market Report
August Market Update
AVERAGE SOLD PRICE:
August 2020 – $556,374
August 2021 – $675,319
For the first time in 8 months, we have seen a drop in the average sale price of homes in the Denver Metro area. It is still a 21.4% increase since last year, but with the decrease from last month, we are starting to see the market level out.
MONTHLY INVENTORY:
August 2020 – 1.9 inventory
August 2021 – 0.9 inventory
Three months! We have seen the monthly inventory increase for the third time as the market cools down from a hot summer sell season on top of a COVID crazy market.
ACTIVE HOMES:
August 2020 – 9,965
August 2021 – 5,301
We see a 46.8% decrease in the number of active listings and this is the 14th straight month where we have seen a year-to-year drop. Like the inventory numbers, we have also seen a three-month increase in the month-to-month numbers as we approach the traditional buyer season of the year.
DAYS ON THE MARKET:
August 2020 – 28
August 2021 – 11
These numbers didn't change from last month but are still subject to skewing from total remodels and larger homes.
THE TAKEAWAY:
September is here and that means that buyers should get things rolling! Give us a call and we can start looking for a home that fits your needs! Investors should do the same! We'd love to look for some great properties in the Denver Metro Area that you can buy and invest in! Sellers should WAIT! Give us a call in about four months when prices start going back up so we can get you the best bang of a buck on your family's home.
Curious to know more about the market in your neighborhood or community? Give us a call!
Please keep in mind that every real estate transaction is different, but we are always happy to sit down and have a conversation and help you look at your options for buying, selling, or investing.