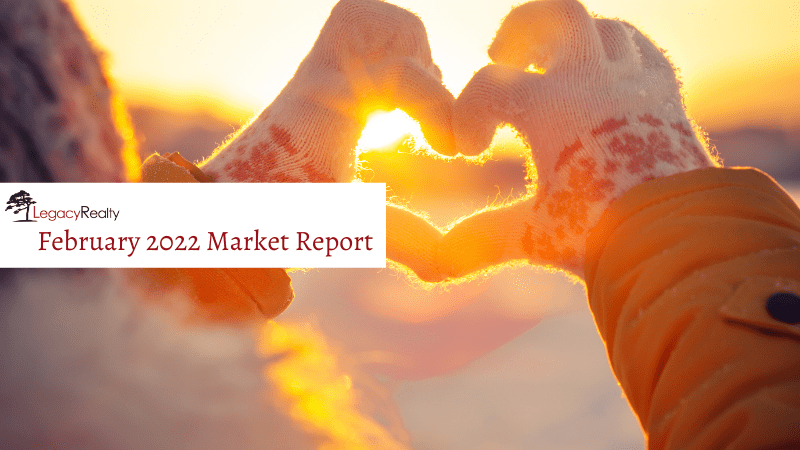 February 2022 Market Report
February Market Update
AVERAGE SOLD PRICE:
February 2021 – $588,891
February 2022 – $678,012
Part way through 2022, we continue the rising trend in average sold prices of homes for the third month! We see a 15.1% increase from 2021 to 2022. We expect to see transactions be even more competitive than last year's insanely competitive market.
MONTHLY INVENTORY:
February 2021 – 0.8 inventory
February 2022 – 0.5 inventory
We see another month where monthly inventory has decreased overall and a 37.5% drop from last year. As we move more into the traditional seller's market season, it is expected this number will continue to drop.
ACTIVE HOMES:
February 2021 – 4,628
February 2022 – 2,541
We are five months into a continuous decline in the number of active listings in Denver Metro Single Family Real Estate Market. This drop represents a 45.1% decline from 2021. Again, supply is not increasing so we expect to see this number drop as we head into the spring.
DAYS ON THE MARKET:
February 2021 – 27
February 2022 – 21
As the competition continues to heat up, we expect this number to continue to drop as we saw last year. Year to year this only shows a six-day difference in days on the MLS, but combine it with the other data in the market report and we see the Real Estate Market only getting hotter.  Keep in mind that these numbers are swayed by larger homes and remodel projects.
THE TAKEAWAY:
The market is hotter than ever! For both buyers and investors looking to buy, we are in this weird spot of the year where it is not a bad decision to buy, and it is no longer the prime time. While we are confident that the prices of home will be on the increase, we are unsure how the rates will change. This could impact consumer approval for home loans in the future, so spending a little more in competition right now might be a better move than hoping the rates do not increase.
Sellers, it is time to start looking at selling your home. Give us a call and we can talk through some things that might help boost the value of your home and when the best time for you to sell might be.
Curious to know more about the market in your neighborhood or community? Give us a call!
Please keep in mind that every real estate transaction is different, but we are always happy to sit down and have a conversation and help you look at your options for buying, selling, or investing.