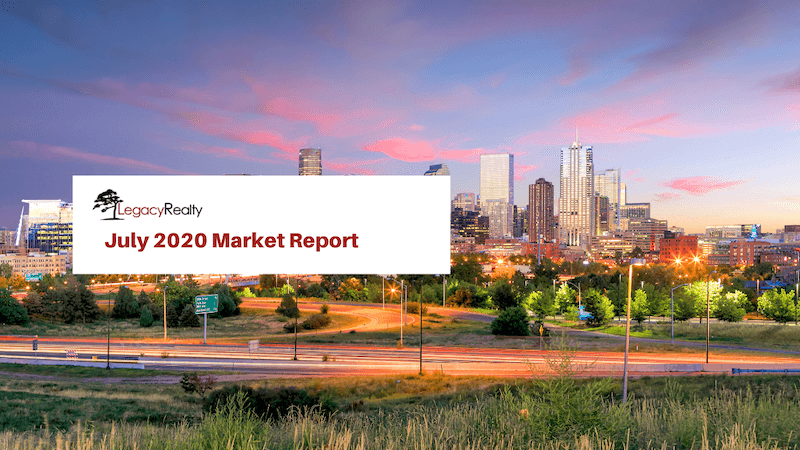 July 2020 Market Report
I hope this finds you and your loved ones healthy and safe. It's that time again, time for me to deliver the facts about the Denver Real Estate Market and what experts like myself are seeing in our market right now.
As you might be aware, it's been a very, very, busy summer! I might even say it's one of the busiest I've seen in a while.
Here are the Denver Metro housing statistics for July 2020:
Average price of a home was $550,864
The average price of a home has INCREASED by 4.6% from this time last year
6321 active listings from July and down 32% from last year
Months of supply is at 1.4% and down from last year by 36%
The average home was on the market 25 days from listing to closing
So what do all these numbers mean for you?
Due to Covid-19 and things shutting down, our market shifted and pushed the peak season of selling out by a month or so. In some areas we are seeing homes sell for 20-30% higher than the highest comparables.
For example, last month I had 15 homes on the market, and we listed high. Many of the homes went under contract within several days and closed significantly over asking price. There isn't a lot of supply out there so demand from buyers is very high.
The other experts and I continue to track the housing statistics weekly due to the rapidly changing market conditions, because we want to make sure people are well informed. In the past weeks, we've seen an increase in activity and just wait until you hear about our August statistics!
Mortgage Rates are still at an all-time low and rates have stabilized nice and low, first-time buyer programs are still in place, and mortgage products are good and closing well.
If you're ready to buy, sell, or invest, now is a great time! Please remember I am here for each and every one of you, never hesitate to reach out if I can help you in any way.
Thanks and God Bless,
Shane Severson