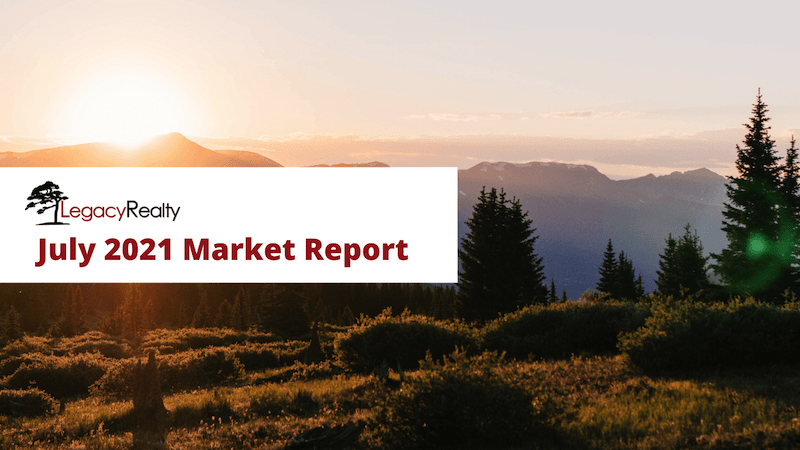 July 2021 Market Report
July Market Update
AVERAGE SOLD PRICE:
July 2020 – $540,312
July 2021 – $676,709
This shows a 25.2% increase and price change of $136,397 since last year. This shows that the market still has crazy numbers at the moment but is showing signs of settling down.
MONTHLY INVENTORY:
July 2020 – 2.1 inventory
July 2021 – 0.8 inventory
For those who don't know this number signifies how long it would take for us to sell out of homes if the number of available homes and the number of buyers did not change. This shows a 62% drop since last year, but it is the second month in a row that we have seen an increase in inventory.
ACTIVE HOMES:
July 2020 – 10,632
July 2021 – 4,722
This shows a 55% decrease from last year, but these numbers also show a huge increase since January when we were sitting at 2,492 active listings. Although there has been some fluctuation, this is the highest active number listing we have seen in months.
DAYS ON THE MARKET:
July 2020 – 28
July 2021 – 11
You can see there has been a 60.7% decrease since last year, but this number can be skewed by larger or total remodel homes.
TAKEAWAYS:
As we move into August we will see the market slow down and the numbers start to settle after a crazy year with COVID. If you are planning on selling your home, you should list NOW! Buyers, now is the time to start the process. Start talking with your lender or getting your money together and give me a call so we can get you set up on email alerts for homes coming on the market. Investors give us a call and we will get you started with looking for some great opportunities in the Denver Metro area!
Curious to know more about the market in your neighborhood or community? Give us a call!
Please keep in mind that every real estate transaction is different, but we are always happy to sit down and have a conversation and help you look at your options for buying, selling, or investing.