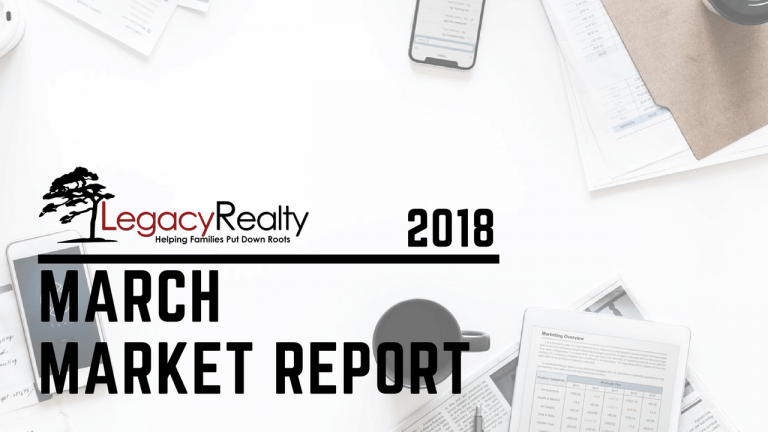 March 2018 Market Update
Here we go again…we are at the end of April headed into the Summer season with kids getting out of school, weather getting warmer, and people ready to make a move in real estate. The market is heating up as much as the weather and people are already starting to think about their plans for selling and/or buying a home.
The numbers for March have come out and nothing has really changed much here in the Denver market. With the Summer approaching, we are up 35% for the number of homes sold in March compared to February. This is normal and it shows the quick ramp up that we see when this season hits. The number of homes sold in March of 2018 is actually down 3% from March 2017. As I have talked about a lot, this number shows the continued lack of inventory. As my last blog stated, the monthly inventory is a huge factor in showing the strength of the market. The fact that the inventory actually went down shows again that we should have some of the same challenges with finding homes to buy, and probably similar increase in prices here in our Denver market.
With all the talk of the prices here in Denver, it seems we are reaching new heights month after month and year after year. The average sales price for a single-family home in March is $469,613 and for a detached single-family home the average price is now $520,963. What does this mean to a buyer and a seller? Well, if you are a buyer, the prices look like they will continue to climb and the interest rates are supposed to climb quite a bit as well. Buyers should really think twice about waiting for the market to crash.
Now, I don't have a crystal ball but if I were a betting man, I would guess that those who wait will end up paying a big price for waiting. If you are a seller that needs to sell this year and you are looking to get top dollar, NOW is the time. Don't wait until Summer ends to start the process, the waiting will cost you as well. Start the process now and talk to a professional that can help you plan for the best and most effective time to buy or sell. Let them keep the money you deserve in your own pocket!