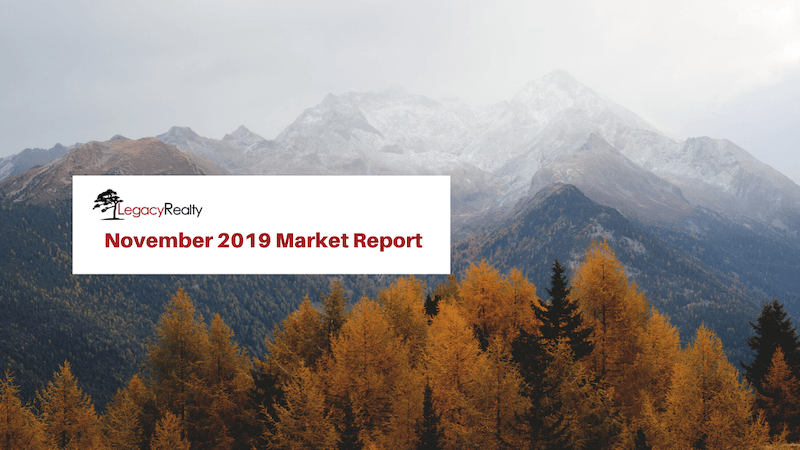 November 2019 Market Report
Hi everyone, thank you for checking in on your November 2019 Real Estate Market Update. Experts agree, Denver is in an extremely unique situation for people looking to 'move up' and I am going to go over that in-depth, but before I do, here is a quick snapshot of what the market is looking like.
$513,543 – Average housing price is UP 3.1% from this time last year
1.9 Months of Inventory – The inventory has remained the same for the past 6 months
I don't care what I hear in the news, I pay attention to facts and these numbers demonstrate a very strong housing market that is showing steady growth! In fact, one of the strongest starts to the holiday season I have seen.
What I want to concentrate on today is a rare circumstance going on in Denver experts are calling the 'Move Up Trifecta'. But let me back up, and talk about something I hear from clients all the time and that is what's the point of moving up? Normally if a market is down, you buy low, then turn around and have to sell low. Or the opposite, the market is strong and you sell for top dollar, then, of course, have to buy at top dollar. So why bother?
The numbers don't lie and Denver residents have an excellent opportunity to trade up for that house they've been waiting for. How is this possible? Three things are happening.
1. Demand is HIGH for smaller houses under 1829 square feet – SELLERS MARKET HERE
2. Demand is LOW for larger more expensive houses – BUYERS MARKET HERE
*In addition, there larger, more expensive homes have new builds to compete with!
3. Rates are at an all-time low – BUYERS HAVE MORE PURCHASING POWER
The bottom line, move-up buyers have an opportunity to get into their large, dream home for a similar payment to their current one.
As always, everyone's situations will differ slightly. Call me to discuss yours!
Thanks and God Bless,
Shane Severson