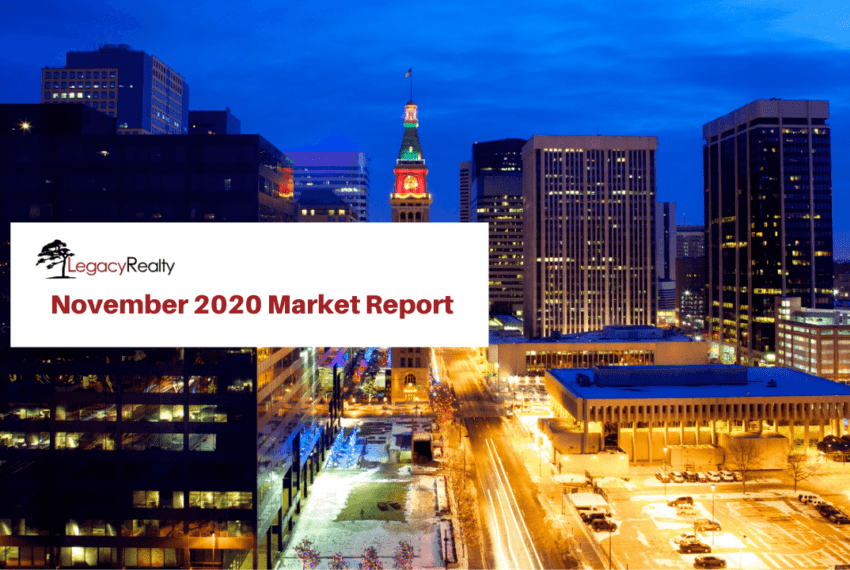 November 2020 Market Report
November Market Update
Average Sold Price: $596,394 – These numbers might seem high and I admit, there is a little inflation currently as many of the homes selling are higher end homes while lower priced homes are not selling as quickly. At present this is a 16% jump from last year, but realistically I'd say we have seen a 4-6% increase in price.
Inventory: What inventory? There is not much. The Denver Metro's month of inventory is at .08%! I'm not sure I've ever seen the inventory this low in the 22+ years I've been in business. If you've been following our reports, in 2020 we've been seeing an average of 1.5 months inventory. This has dropped from last year by a mind blowing 58%.
What else is happening? Prices are increasing. We're seeing lots of overbidding in this market with the lack of inventory.
Homes on the Market: There were 3853 active listings on the market in November that is a 54% drop from last year. 3853 might sound like a lot of homes but keep in mind, these numbers are for the entire Metro area real estate market. To give perspective last year in November there were 8404 homes on the market. To put another spin on the numbers, in order to move to a buyers' market, we need to have 6 months of inventory supply which averages about 25,000 active listings.
Showings: 15 showings are the average we're currently seeing on active listings. Last year we were at 6 showings per home. That is a 144% increase in showings! Why is this so high? Because of supply and demand.
The Takeaway:
Sellers: this is an unprecedented market and the time to sell is right now! Even though winter is typically a slower time of year, the Denver market is HOT!
Buyers: It CAN be a good time to buy. Interest rates are at an all-time low. Once you're in the market you're in! It's great to buy in a market that is growing and strong. Now is the time to shop and we're here to help you navigate the competition.
Curious to know more about the market in your neighborhood or community? Give us a call. Please keep in mind that every real estate transaction is different, but we're always happy to sit down and have a conversation and help you look at your options for buying, selling, or investing.