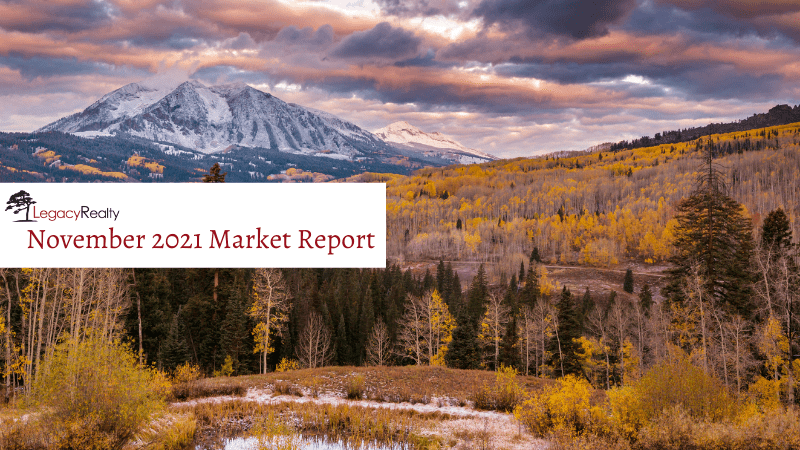 November 2021 Market Report
November Market Update
AVERAGE SOLD PRICE:
November 2020 – $584,001
November 2021 – $667,982
So, after three months of decreases, the average sold price is starting to rise in the Denver Metro Market. As we work through December, we expect the prices to continue rising entering the new year. We saw a 14.4% increase in the prices from last year continuing the trend of high appreciation for homeowners. If you are thinking of buying, now is the time! Get in before we see the market change that comes at the start of the year!
MONTHLY INVENTORY:
November 2020 – 1.4 inventory
November 2021 – 0.8 inventory
Well after breaching one month of inventory last month we dropped again in November to just below one month of inventory available. We see a 42.9% decrease in year over year numbers from 2020. Again if you watched last month's update, Shane discussed why we will continue to see lower numbers here in the monthly inventory as we sit in a heavy seller's market.
ACTIVE HOMES:
November 2020 – 7,671
November 2021 – 4,757
From 2020 to 2021 we see a 38% decrease in the number of active homes available in November. This also marks the second month where we have seen a decrease in the active home month over month.
DAYS ON THE MARKET:
November 2020 – 28
November 2021 – 16
Continuing to stay consistent for the most part, we still want you to look at these knowing they are swayed by larger homes and remodels.
THE TAKEAWAY:
The Denver Metro Real Estate market is continuing to stay strong as we another month with a huge appreciation in home value. The home prices are starting to go up as we prepare for the New Year, but it is still considered to be the seasonal buyer's season. We are still advising people to look at buying before 2022.
Investors you should buy now! We are pushing our investors to buy what they can before the end of the year. The market looks strong and we cannot say it enough that it is worth it to buy another property for your portfolio!
Sellers should wait as the new year brings higher valuations for homes. Reach out and we start the process for a listing date after January 1st. We can also discuss improvements that might be worth your time!
Curious to know more about the market in your neighborhood or community? Give us a call!
Please keep in mind that every real estate transaction is different, but we are always happy to sit down and have a conversation and help you look at your options for buying, selling, or investing.