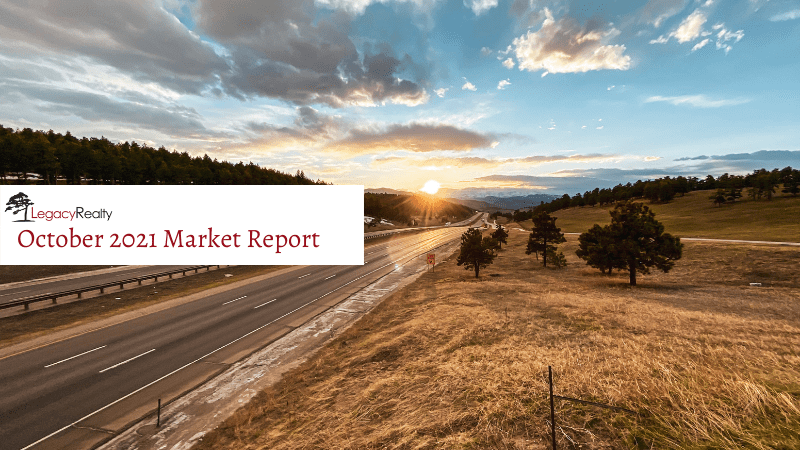 October 2021 Market Report
October Market Update
AVERAGE SOLD PRICE:
October 2020 – $583,411
October 2021 – $664,127
For a third consecutive month, we saw the average sold price decrease! This continues to point to a market that is settling after the craziness of COVID but is still very much a Seller's market. We see a 13.8% increase in value from this time last year, meaning it is still a great idea to buy a home in Colorado if you are looking to increase your assets.
MONTHLY INVENTORY:
October 2020 – 1.5 inventory
October 2021 – 1.0 inventory
After four months of increases in this statistic, we are left at one month of inventory for the second month. This is a 33.3% decrease from last year's availability but so much better than what we saw at the beginning of 2021. As discussed in the video, this is a big part of what it means to be in a seller's market.
ACTIVE HOMES:
October 2020 – 8,550
October 2021 – 5,567
There is a 34.9% decrease in the number of active listings from last year. We also see the first drop in this number that we have seen after four months of steady increases. This brings us to 16 months of consecutive drops from a year-to-year comparison. As the net population continues to increase here in Colorado, we expect this to continue.
DAYS ON THE MARKET:
October 2020 – 29
October 2021 – 15
Continuing to stay consistent for the most part, we still want you to look at these knowing they are swayed by larger homes and remodels.
THE TAKEAWAY:
The Colorado housing market is as strong as ever! We have only ever seen three years where the prices in homes have dropped from one year to the next and the last time it happened was the 2008 financial crises. As prices continue to rise and the number of available homes drops, we advise people to buy! December is the last month where we normally see the seasonal buyer's market, so if you are even contemplating buying a home it is time for you to make that move.
Investors you should buy now! We are pushing our investors to buy what they can before the end of the year. The market looks strong and we cannot say it enough that it is worth it to buy another property for your portfolio!
Sellers should wait as the new year brings higher valuations for homes. Reach out and we start the process for a listing date after January 1st. We can also discuss improvements that might be worth your time!
Curious to know more about the market in your neighborhood or community? Give us a call!
Please keep in mind that every real estate transaction is different, but we are always happy to sit down and have a conversation and help you look at your options for buying, selling, or investing.