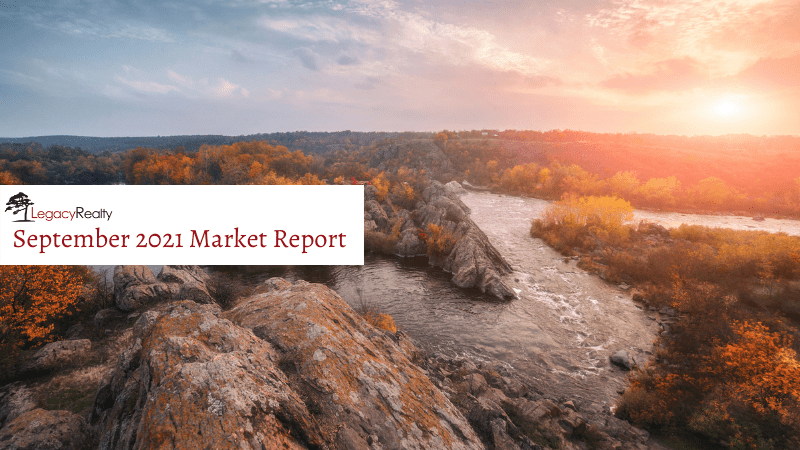 September 2021 Market Report
September Market Update
AVERAGE SOLD PRICE:
September 2020 – $571,954
September 2021 – $667,095
For the second month in a row we saw the average sold price decrease! This is amazing to see after 8 months of solid increases. If you have been watching the Tips Tuesday videos, you know that we fully believe it is a great time to buy a great home for a great value! Homes in Colorado are still appreciating nicely as we see a 16.6% increase in value from 2020. 
MONTHLY INVENTORY:
September 2020 – 1.7 inventory
September 2021 – 1.0 inventory
Keeping the streak alive, we see a fourth month of increases in monthly inventory further confirming the market is cooling from the summer months. We are still lower than last year by 41.2%, but we starting to see the COVID affects decrease in this fall and winter buyer's season. 
ACTIVE HOMES:
September 2020 – 9,323
September 2021 – 5,852
Number of active listings is down 37.2% from 2020, but we are also in a steady increase for the last four months. The year-to-year drop is still going as enter the 15th month of consecutive drop in the number of active listings when comparing the numbers from the year before.
DAYS ON THE MARKET:
September 2020 – 29
September 2021 – 13
While these numbers have fluctuated a little from the August numbers, they are still subject to being skewed by larger homes and remodels. 
THE TAKEAWAY:
The takeaway is similar to last month, buyers should start looking! Give us a call and we can get you started with a personalized home search! Investors should do the same! We are ready to help you find that project that will bring you the best bang for your buck in the Denver Metro Area. Sellers you should wait! We are in buyer's season now, so anyone looking to sell should hold off until the beginning of the new year. We want to make sure you get the best deal possible so let's wait for the moment and talk again in about 3 months.
Curious to know more about the market in your neighborhood or community? Give us a call!
Please keep in mind that every real estate transaction is different, but we are always happy to sit down and have a conversation and help you look at your options for buying, selling, or investing.